Your Dekalb Farmers Market
3000 East Ponce De Leon Ave
Decatur, Georgia 30030
At the intersection of East Ponce De Leon Ave. and Laredo Drive, 2 miles inside of I-285 off of Exit #40 (East Ponce De Leon)
Hours :
Store: 9am - 9pm Daily
Business Sevices: 8am - 5pm
Location / Click Google Map
Closed :
Thanksgiving Day
Christmas Day
Amazon
WE DO NOT ACCEPT CREDIT CARDS - ONLY DEBIT CARDS, EBT, CHECKS & CASH ARE ACCEPTED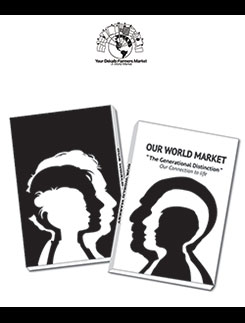 Get the book:
This book is dedicated to you,
our customers.
Download the eBook at
and iTunes.
www.ourworldmarket.com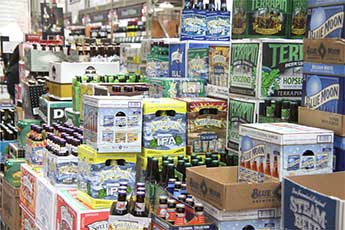 Monterey Chardonnay is so rich,
it doesn't need oak. Refreshing
acidity, courtesy of the cool climate,
heightens the golden mango,
tangerine, Asian pear, white
flower, vanilla bean and butter
cream flavors, leading to a long
finish complexed with a hint of
yeast from sur lie aging.
There's a honeyed sweetness,
but the finish is dry.
Mossback Russian River Valley Pinot Noir - 2014 Sonoma, California 93 pts.
The 2014 Mossback Russian River Valley Pinot Noir opens with beautiful aromas of cola, chocolate and rhubarb. A soft, silky entry leads to complex layers of mocha, barrel spice and deep, dark cherry flavors. This is a well-structured wine with full extraction of beautiful Pinot Noir flavors.
Our 2014 Mossback Pinot Noir is a blend of Russian River Valley fruit sourced from growers that Winemaker Dan Cederquist has worked with for decades. These are the best grapes purchased from the best farmers from Dan's many years of winemaking in the Russian River Valley.
Chalk Hill Chardonnay -
2015 Sonoma, California 90 pts.
The 2015 Sonoma Coast Chardonnay is golden in color. Aromas of yellow apple, melon, citrus zest and mango meld beautifully with notes of toasted hazelnut and vanilla custard from the oak aging. Pure and rich with an elegant palate, it displays fruit-forward flavors of golden apple, nectarine, and guava with subtle hints of butterscotch. With its cool-climate influences, this Chardonnay has remarkable varietal intensity, balanced acidity and mineral notes that complement the rich and full flavors of baked apples, and vanilla cream
Cambria Clone 4 Pinot Noir -
2014 Santa Maria, California 91 pts.
Cambria Clone 4 Pinot Noir is a stunningly good wine for the money! Cambria is a family-owned, estate winery located in the heart of the famed Santa Maria bench in Santa Barbara County. Bolstered by several decades of diligent winemaking and vineyard experience, Cambria's wines faithfully express the unique stamp of one of the finest cool-climate in California.
Carmel Road Unoaked Chardonnay - 2015
Monterey, California 92 pts.
Damm Brewery Daura Märzen / Gluten Free - Spain 96pts
A wonderfully rich and lively gluten-free lager. Clear bright amber color. Lively, toasty aromas and flavors of lemon scone and butter roasted nuts with a silky, crisp, finely carbonated, sweet medium body and a smooth, breezy finish.
Brewed from non-gluten containing cereals such as rice, sorghum, buckwheat, and corn, these beers were originally brewed for the portion of
the population intolerant to gluten.
Ballast Point Sculpin IPA -
San Diego, California - 100 pts
Sculpin IPA is bright with aromas of apricot, peach, mango and lemon. Its lighter body also brings out the crispness of the hops. This delicious Ballast Point Ale took a Bronze Medal at the 2007 Great American Beer Festival in the Pro Am category. Something that has a sting but tastes great, sounds like a Ballast Point India Pale Ale.
Tour appointments may be scheduled Tuesdays, Wednesdays, Thursdays, 10-11a.m. for groups of 25 or less.
What Double IPA stands for?
Indian Pale Ale with a higher alcohol content, normally above 7.5% by volume.. IPA's are an early form of "light beer" from pale malts made for the East India Company in the 18th century. Since then, the varieties and flavors are influenced geographically.
Score Explanation
95–100 Classic: a great wine
90–94 Outstanding: a wine of superior character and style
85–89 Very good: a wine with special qualities
80-84 Good: a solid, well-made wine
75–79 Mediocre: a drinkable wine that may have minor flaws
50–74 Not recommended
*Wine Spectator 100-Point Scale
The market carries over 700 varieties of wines and 500 varieties of beer, imported and domestic. Our buyers find the most interesting and varied collections at every price range for everyday enjoyment and the most important occasions. Ratings and descriptions for many of our selection will help you make the best choice based upon your taste and regional interests.
Our wine selection is geographically and categorically arranged, so that you will have an easy time finding your favorite wine or discovering something new and interesting. The market even offers a large selection of organic wines to choose from. Always, utilize our staff. They love to talk about the options and help you find something new and different. Don't be shy.
What are Wine Ratings Points?
Most of our wines are rated by wine critics with the 100 Point Scale popularized by Wine Spectator magazine. This system has some critics, but the 100-point scale is becoming more accepted by professionals and amateurs each year. See the Ratings explanation below: