Your Dekalb Farmers Market
3000 East Ponce De Leon Ave
Decatur, Georgia 30030
At the intersection of East Ponce De Leon Ave. and Laredo Drive, 2 miles inside of I-285 off of Exit #40 (East Ponce De Leon)
Hours :
Store: 9am - 9pm Daily
Business Sevices: 8am - 5pm
Location / Click Google Map
Closed :
Thanksgiving Day
Christmas Day
WE DO NOT ACCEPT CREDIT CARDS - ONLY DEBIT CARDS, EBT, CHECKS & CASH ARE ACCEPTED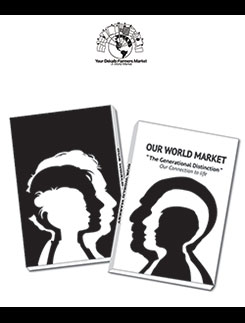 This book is dedicated to you,
our customers.
www.ourworldmarket.com
Paperback Books are available at
YDFM information desks.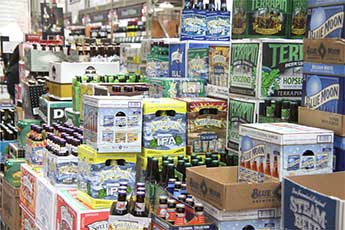 Warsteiner - Oktoberfest Special Edition
Germany
Celebrate German heritage with this authentic, German Specialty Beer in limited quantities especially for Oktoberfest celebrations. This special edition has a well-balanced, mild and smooth taste with a uniquely soft, hoppy aftertaste and 5.9% alcohol.
Samuel Adams- Ocotberfest (Märzen)
Boston, MA
Samuel Adams® Octoberfest has a rich, deep golden amber
hue which itself is reflective of the season. Samuel Adams® Octoberfest is a malt lover's dream, masterfully blending together four roasts of barley to create a delicious harmony of sweet flavors including caramel and toffee. The beer is kept from being overly sweet by the elegant bitterness imparted by the German Noble hops. Samuel Adams® Octoberfest provides a wonderful transition from the lighter beers of summer to the winter's heartier brews.
Brooklyn Brewery - Märzen Oktoberfest Lager
Brooklyn, NY
Both the festival and the special beer served there became known as Oktoberfest. Brewed from the finest German malt and hops, Brooklyn Oktoberfest is true to the original style, fullbodied and malty, with a bready aroma and light, brisk hop bitterness.
Märzen lager harnesses sweet, bready malts and traditional German noble hops to create a smooth, crowd-pleasing festbier.
Domaine la Colombe
Coteaux Varois Rosé
2016 France - 89 pts.
Casillero del Diablo
Malbec
2018 Chile - 90 pts.



This wine embodies summer! A beautiful nose, enveloped with fresh herbs like chervil as well as watermelon and grapefruit.
The texture on the palate is
quite wonderful, with a slight creaminess and round mouthfeel.
Accented with flavors of berry, the latest vintage from Colombe is the perfect summer sipper.
FOOD PAIRINGS: Great on its own as an aperitif or with light food fare.
Casillero del Diablo's outstanding Malbec featuring concentrated sweet fruit and round tannins with aromas of blackberries and black plums with a touch of black pepper and vanilla, while flavors of spices and black plums meld perfectly on the palate. Intense and deep ruby red with delicious aromas of black fruit followed by pepper and subtle touches of vanilla and black chocolate. All very well balanced.
FOOD PAIRING: Harmonizes perfectly with all types of barbecues, ripe cheeses and sweet and-sour sauces.
"Deep, earthy chocolate notes invigorate the palate. Raspberry painted on blueberry painted on blackberry makes for layers of sumptuous fruit, with a juiciness that goes to the max." Plum & dark berries on the nose and at first sip; Oak spices; Mocha and cocoa; Earthy with fine tannins; Smooth & velvety finish..
FOOD PAIRINGS: Pair it with grilled bison and a few rings of a thinly-sliced red onion.
"A pretty and delicious cabernet sauvignon with currants, berries and dark chocolate. Medium body, firm and silky tannins and a crisp finish. A go-to cabernet that always pleases." Medium-intensity ruby in color, this wine has an aromatic nose of black currant, red plum and cranberry, full-bodied cabernet displays red fruit flavors suggested on the nose along with grippy, medium-plus tannin and some tar notes on the finish.
FOOD PAIRING: A great choice to match with red meats, herby dishes or mature cheeses.
David Cohn Bellacossa
Cabernet Sauvignon
2016 - California 94 pts.
Casillero del Diablo
Cabernet Sauvignon
2018 - Chile 90 pts.




What Double IPA stands for?
Indian Pale Ale with a higher alcohol content, normally above 7.5% by volume.. IPA's are an early form of "light beer" from pale malts made for the East India Company in the 18th century. Since then, the varieties and flavors are influenced geographically.
Score Explanation
95–100 Classic: a great wine
90–94 Outstanding: a wine of superior character and style
85–89 Very good: a wine with special qualities
80-84 Good: a solid, well-made wine
75–79 Mediocre: a drinkable wine that may have minor flaws
50–74 Not recommended
*Wine Spectator 100-Point Scale
THIS WEEK'S FEATURED WINES:
The best Fall Craft BEERS:
The market carries over 700 varieties of wines and 500 varieties of beer, imported and domestic. Our buyers find the most interesting and varied collections at every price range for everyday enjoyment and the most important occasions. Ratings and descriptions for many of our selection will help you make the best choice based upon your taste and regional interests.
Our wine selection is geographically and categorically arranged, so that you will have an easy time finding your favorite wine or discovering something new and interesting. The market even offers a large selection of organic wines to choose from. Always, utilize our staff. They love to talk about the options and help you find something new and different. Don't be shy.
What are Wine Ratings Points?
Most of our wines are rated by wine critics with the 100 Point Scale popularized by Wine Spectator magazine. This system has some critics, but the 100-point scale is becoming more accepted by professionals and amateurs each year. See the Ratings explanation below:
...Stonewall Kitchen COCKTAILS are in the MIX!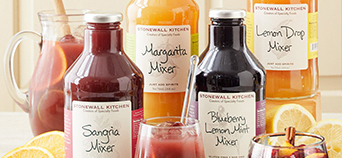 Entertaining your guests is a pleasure with new Stonewall Kitchen Drink Mixers, Pomegranate Cosmo, Moscow Mule, Blueberry Lemon Mint or Peppadew ® Sriracha Bloody Mary Mixer, and traditional Margarita and Bloody Mary mixers, all naturally crafted in new and refreshing combinations.