Your Dekalb Farmers Market
3000 East Ponce De Leon Ave
Decatur, Georgia 30030
At the intersection of East Ponce De Leon Ave. and Laredo Drive, 2 miles inside of I-285 off of Exit #40 (East Ponce De Leon)
Location / Click Google Map
WE DO NOT ACCEPT CREDIT CARDS - ONLY DEBIT CARDS, EBT, CHECKS & CASH ARE ACCEPTED
This book is dedicated to you,
our customers.
Paperback Books are available at
YDFM information desks.
A career opportunity at Your Dekalb Farmers Market means more than just a job. We are committed to building relationships that work! Your experience in the food industry is a valuable component in bringing the world of people and food together. If you've ever visited the market, you'll see that we embrace diversity in an enriched cultural environment.
Positions in management exist for those who want to contribute their expertise in the Food Industry in Product Development and Quality Control, Food Service and Production, International Buying and Selling, Customer Service, Education and Employee Training. All applicants with experience and education in these areas will be considered. We also have positions on our sales floor for those with a keen willingness to learn and grow in the Produce, Meat and Seafood, Food Production, Deli, Bakery and International Products areas.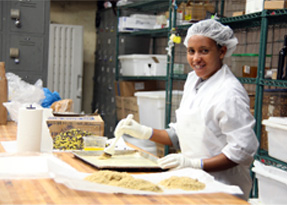 Thomas Asfaw and Patrice Kabanga have been contributing to the market in the Imported Produce Department as buyers in partnership and as friends. Patrice has been with YDFM for almost 8 years, is originally from the Democratic Republic of Congo and Thomas is a native of Ethiopia and has been employed here for 3 years. Both men held professional careers previously.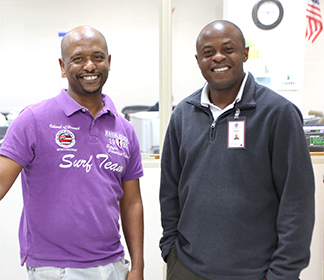 Patrice: "Before coming here I worked as a financial controller for a multinational company in the telecommunications industry. My experience at the market has been very worthwhile. It is amazing to see how people work together and contribute to each other.
The Generational Distinction has been an outstanding contribution to my life since it helps me understand myself as well as other people."
Thomas: "I was an Import Department head for a mega printing company before coming here. I am developing my experience from day to day in the produce industry.
I feel like I am a partner or a shareholder to the market, I don't feel as if I am an employee (my boss is my job).
I deliver what the market expects from me and I am rewarded. It's mutually beneficial."
You may apply in person to Human Resources Department each Tuesday at 9 am :
Dekalb Farmers Market, 3000 East Ponce De Leon Avenue, Decatur, Georgia 30030
Phone: 404-377-6400.
You may also send your resume by email in an attachment with a cover letter to: hr@dekalbfarmersmarket.com or complete the form below and copy and paste your resume in the designated space.
Your Dekalb Farmers Market is and Equal Opportunity Employer.