Your Dekalb Farmers Market
3000 East Ponce De Leon Ave
Decatur, Georgia 30030
At the intersection of East Ponce De Leon Ave. and Laredo Drive, 2 miles inside of I-285 off of Exit #40 (East Ponce De Leon)
Hours :
Store: 9am - 9pm Daily
Business Sevices: 8am - 5pm
Location / Click Google Map
Closed :
Thanksgiving Day
Christmas Day
WE DO NOT ACCEPT CREDIT CARDS - ONLY DEBIT CARDS, EBT, CHECKS & CASH ARE ACCEPTED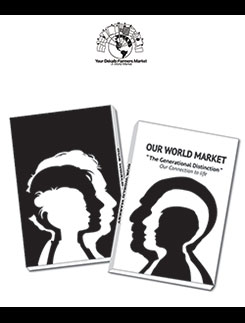 This book is dedicated to you,
our customers.
www.ourworldmarket.com
Paperback Books are available at
YDFM information desks.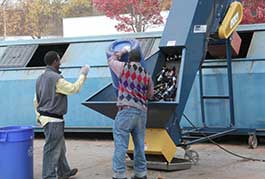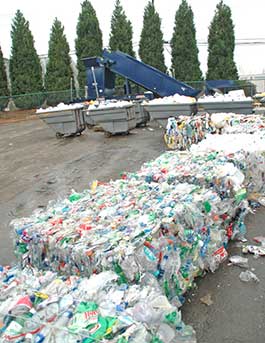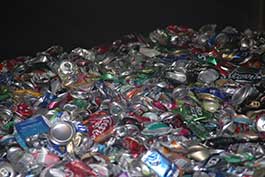 Recycling Makes Sense!
Recycling is separating, collecting, marketing, processing and eventual return of useful items from waste to commerce. For an item to be considered recyclable the material must travel a complete cycle starting and ending with the consumer, turning materials that would otherwise become waste into valuable resources. Recycling glass bottles, aluminum cans, scrap metal, plastics and newspapers at a collection facility like ours is just the first link in a chain that generates a host of environmental and social benefits. When all the pieces are put together, recycling boosts the economy, conserves natural resources and reduces solid waste. There are numerous other benefits.
How Do I Recycle?
Does recycling require a lot of time and effort? NO! Reducing your waste by over 50% requires perhaps 3-4 minutes per day. The key to recycling is creating you own "home recycling center". Your home recycling center is a collection of sturdy, waterproof containers or bins for each recyclable item located in a convenient place. Place in each container designated for the recyclable material as follows:
Glass Bottles & Jars:
Clean and rinse. Remove metal tops. Sort by color; green, brown, clear. World Market Recycling does NOT accept any plate glass, window glass, leaded glass or ceramics.
Newspapers:
Seperate from other kinds of paper. Keep dry and clean.
Magazines, Junk Mail:
Seperate from other kinds of paper. Keep dry and clean.
White Copier/ Printer Paper:
Seperate from other kinds of paper. Keep dry and clean. Do not mix with colored paper.
Aluminum & Steel Cans:
Clean and rinse.
Scrap Metal:
WE DO NOT ACCEPT SCRAP METAL
Dry Corrugated Cardboard:
Keep dry and clean. Please flatten and remove any trash, paper or Styrofoam.
World Market Recycling does NOT accept cereal boxes, beer boxes or any other shiny cardboard.
Plastics:
Plastics are coded by the six most commonly used resins. Their number codes are located on the bottle or container within the recycling symbol. World Market Recycling acepts only TWO kinds of plastics which account for 70-90% of all plastics:
PETE- (Polyethylenen Terephthalate) The most common example is soft drink bottles. The number "1" will be stamped on the bottome of the containers.
HDPE- (High DEnsity Polyethylene) The most common example is milk jugs. The number "2" will be stamped on the bottom of these containers.
Raise awareness and get your elected officials more involved with our ecological crisis. For recycling to be effective it must be a joint venture between the individuals, business and government. The first step in your personal involvement is an investment in the future.
What is the FUTURE of RECYCLING?
Simply put, YOU are the future of
recycling. Taking time to read this is a sign that you are interested in recycling and helping to protect our planet. The key now is to become involved and act. You can make a difference! Once involved, get other involved, that's how it works!
What Can I Recycle at World Market Recycling?
We have specific containers at World Market Recycling for your recyclables that are clearly marked when you visit. We accept the following recyclables:
Plastics (see below) • Glass Bottles & Jars
Newspapers • Magazines • Junk Mail
White Copier/ Printer Paper
Aluminum & Steel Cans
Dry Corrugated Cardboard
World Market Recycling DOES NOT ACCEPT
Motor Oil • Batteries • Anti-Freeze • Scrap Metal
Phone Books • Used Textiles • Styrofoam • Furniture
Tires & Inner Tubes • Chemicals • Paints
Window/Leaded Glass • Sheetrock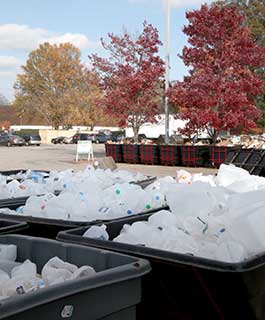 We're involved so that you'll be involved....
Consistent with Your Dekalb Farmers Market commitment to the future generations of this planet, World Market Recycling was established. The purpose of World market Recycling is to conveniently promote recycling in this community and thus make an important contribution to our precious environment. The economic and environmental benefits of recycling has positive societal impacts both today and in the future. Job creation, pollution reduction and energy conservation all serve to improve the quality of life in our communities. Instead of leaving future generations a depleted natural resources base and more waste in landfills, we can leave a stronger economy, greater biodiversity and less global warming by recognizing the value of recycling and passing this knowledge on to our children.